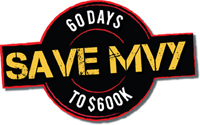 SAVE mvyradio!
It's now or never. And we can't do it without YOU.
mvyradio has given you great programming, independent perspective and a true Island voice for nearly 30 years.
But we're at a crossroads. We have 60 days to raise $600,000. Or we go silent.
The 92.7FM signal that mvyradio has been broadcasting on has been sold and we have just 60 days to raise the money needed to go commercial-free and listener-supported. (Read our listener letter here for more details.)
We need $600,000 in pledges by early 2013 to keep this unique voice alive.

It's a hefty haul, but we've got legions of fans like you who want to keep the music, personalities and vibe alive. Please dig deep and pledge support. Click through and make a pledge. Your credit card won't be charged now. We'll only collect if we meet our goal. Please be as generous as possible. Click through and pledge.
And pass the message on to anyone you know who cares about Martha's Vineyard, independent radio and great music. This is literally our last stand and our last hope.
SAVE mvyradio!
For more background on mvyradio, read our story, here.